I'm proud of my environmental contributions, but feel we can never do quite enough.  One reason I seek the responsibilities of township commissioner is to provide strong green stewardship,teeth to sustainability goals, and a compatible, viable economic base to ensure that actually happens.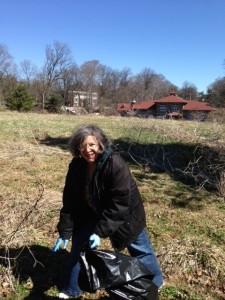 Below follows a sample of some of my environmental accomplishments over the decades:
In 1979-80, under Grant # T-003179-01 from the US EPA, I researched and wrote a number of papers in a published collection Water Quality Management in Pennsylvania: Problems and Solutions. My work focused on the political framework for securing water quality; on water contamination, runoff, and the integrity of drinking water; and on water conservation.
Following publication of the EPA papers, I planned and implemented "Water Week" in Cheltenham, Jenkintown and Abington.  Although I didn't make it an annual event (perhaps this should be considered), I conducted with our libraries a week-long period of workshops, films and discussions to increase public awareness about issues pertaining to water. I also organized a bus trip to our area drinking water purification facility.
Starting in the early 1990s, as assistant director and then director, I helped develop a new LWV program, Kids Around Town (KAT).  This civic education program taught teachers and their students to use their academic skills to help tackle local public policy issues.  For about twenty years, I worked with classes across the state on problems ranging from overflowing landfills, to dying ponds and streams, and second-hand smoke.  In one study about smoking, Philadelphia students at Wilson Middle School ended up testifying at City Council hearings in favor of the city's proposed Clean Air Ordinance.  (KAT received the Program of Excellence Award from the National Council for the Social Studies as well as the Pennsylvania Council for the Social Studies.)
As an adjunct professor at Temple University, one of the courses I taught for many semesters was Service Learning.  In that course, I instructed aspiring teachers in the use of authentic problem solving as a pedagogical best practice.  In addition to expecting students to attend at least one public meeting during the semester, they were required to engage in actual community work. Among many diverse opportunities, some students participated in environmental projects, and some collaborated with other Temple University departments to pursue projects in horticulture and GIS.  The coursepack I developed for this course included excerpts from biographies of James Audubon and John Muir, among other pioneer naturalists.
As a professional freelance writer, I've researched and published more than 1000 articles, hundreds of which promote public awareness and action to protect the environment.  These articles include pieces about ways to reduce automobile miles beyond public transit (carpooling, riding cooperatives, PhillyCarShare, etc.), John Heinz National Wildlife Refuge at Tinicum, Morris Arboretum, Briar Bush Nature Center, the Wissahickon Watershed, toad migrations, Community Supported Agriculture (CSAs), etc. I've used my occasional column, Rappoport's Rules of Disorder, in many ways, including to describe the goals of Transition Cheltenham, part of the Transition Town environmental movement, and to write about issues such as fracking, a local bird rescue team, and the ecological role of mushrooms.  In many cases, my articles address activities in which I've been engaged. 
As coordinator of the Gam Yahad program for 22 years (programs for adults with developmental disabilities and their families/friends), I've created events and organized trips with environmental themes.  These have included trips to orchards for apple picking and planting activities.
As a board member of the Cheltenham Township Adult School, I've initiated and developed course offerings on the value of bats and other environmental topics.  That was significantly before the popular press adopted the white-nose syndrome as a hot topic.
My personal associations also attest to a long and deep commitment to protection of our ecosphere. In addition to our support of the Sierra Club, we support ocean and land conservancy groups, wildlife and parks organizations, Audubon and Cornell Lab of Ornithology, and many others.  Locally, for instance, I occasionally participate with the Friends of Poquessing Watershed in bird walks and have taken a mushroom expedition with a mycological society in central Pennsylvania that I support.  I also worked with a small group of friends a few years ago to help a local senior center develop and tend a community garden.  We belong to a CSA (community supported agriculture) to which I contribute a number of hours of physical labor every year.
Cheltenham currently faces many serious environmental challenges – from missing sidewalks along vital roadways to critical sewage and flooding problems.  Residents of Cheltenham can be reassured that their environmental concerns are also my own.